BNA Reward Points

Did you know every dollar you spend at BNA Model World earns you rewards? With each order you make on our website, you're automatically rewarded with BNA Points. The more you spend, the more you save! This is our way of saying Thank You to our customers.


Every dollar spent for ANY items in our store will earn you 1 BNA Point.
100 BNA Points equals to $3 AUD in value.
No limitations. No conditions. You are free to redeem ANY amount of BNA Points on ANY purchase until you reduce the product price to zero.
Now we have removed the expiry date! So every BNA Point you have earned will be secured in your account until you use it.
How can I earn BNA Reward Points?

It's easy and simple! Just purchase and earn! However, please ensure you have registered with us (Still not? Click here to join us today! It's free and extremely quick!) and purchase under your account rather than a guest account. Every dollar (in AUD) you spend will earn you 1 BNA Point excluding shipping costs (AU$1 spent on goods value = 1 BNA Point to earn).

Once your order is fully processed (i.e., updated to "Shipped" or "Released" status), any pending BNA Points earned from this order will be credited into your account and immediately become ready to use on your next purchase. You can check your BNA Points balance from My Account -> Your Reward Points.


How do I redeem BNA Points?

Redeeming BNA Points is very similar to the way of using Coupon or Voucher. You can redeem the points on either Shopping Cart page or on Check Out directly.

On Shopping Cart:
On Shopping Cart page, please find "Use Reward Points" under Options below the shopping cart content table and click on it. (See below image.)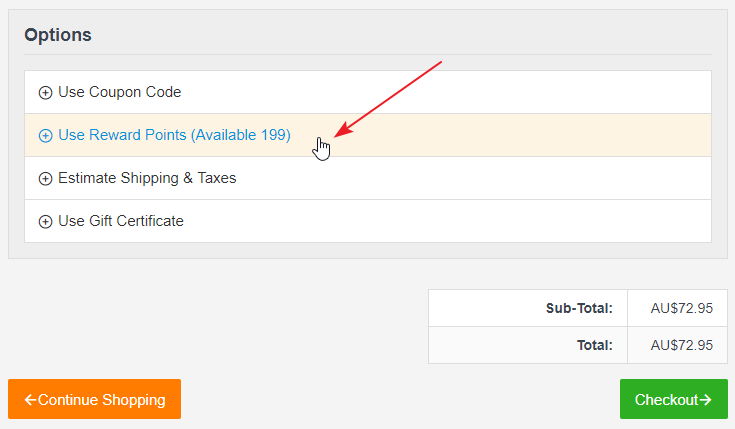 Type in the amount of points you want to redeem and then click "Apply Reward".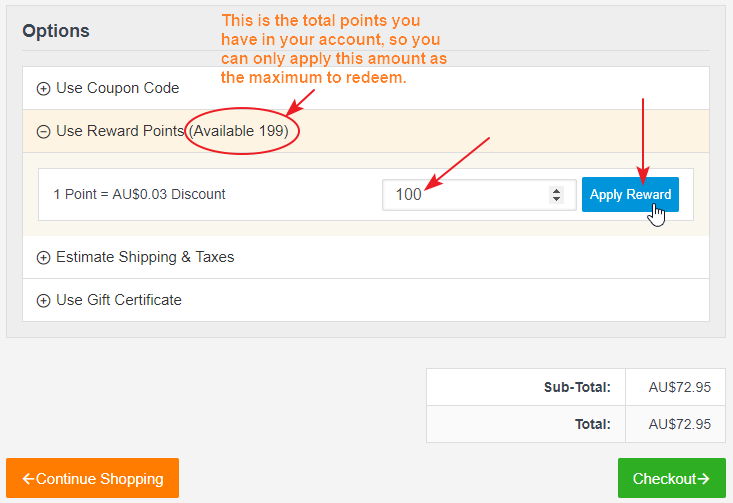 Now you will see a pop-up message confirming the points are applied. Done! Your points are successfully redeemed and you can simply proceed to check out.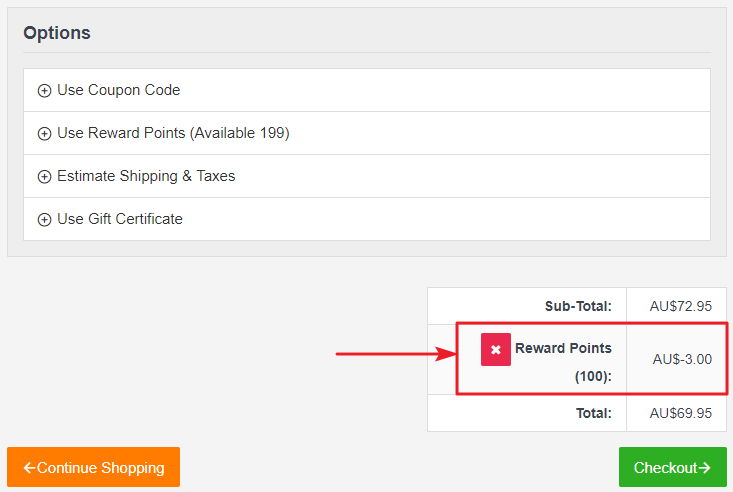 On Checkout:
If you haven't redeemed the points on Shopping Cart page, you can also directly redeem on the Checkout page. Just simply fill in the amount of points you want to redeem in the Coupon/Voucher/Reward section as shown in the below image. Then click Submit button to apply and you will have the points successfully redeemed.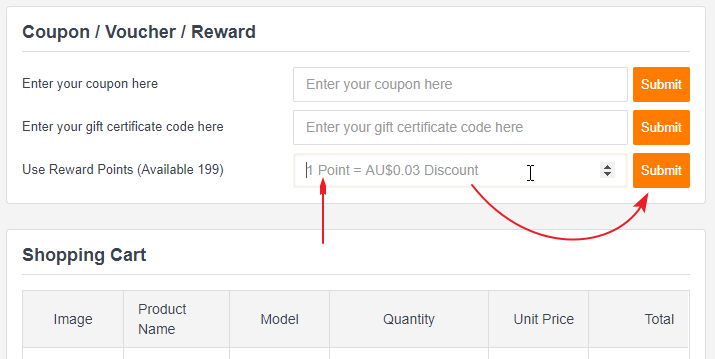 Any more questions? Check here.
You can track your BNA Points history and balance from My Account or
click here
. Please note that points earned from a new order won't appear until this order is "Shipped".
If you forgot or failed to redeem the points on checkout, do not worry, please
contact us
and we will fix it for you by refunding the discount amount via the original payment method.
Only value of goods or Gift Voucher purchased (subtotal after discounts) are earned as BNA Points. Shipping cost is not included.
BNA Points are only redeemed for goods value and cannot discount on shipping cost.
Purchases under Guest Account or via our eBay store cannot earn you any BNA Points, unfortunately.
If you have any questions or problems that are not answered on this page, please feel free to
contact us
and we will respond ASAP!